You might want to use a third-party app to hit the Loopify endpoints.
Most of our API endpoints require authorization with a Bearer Token. We already covered how to request an access_token.
Once you have a client ID and a client secret, you are ready to start making calls. On api.loopfy.com you can find a list of our endpoints and details about the data you can send and receive. In this article, we'll show you how to use Postman with every API method in our library. Open Postman and let's dig in:
First of all, you can add all of our methods into Postman by importing this text.
1. Select Import, click on Paste Raw Text, paste the text from the link here and click Import.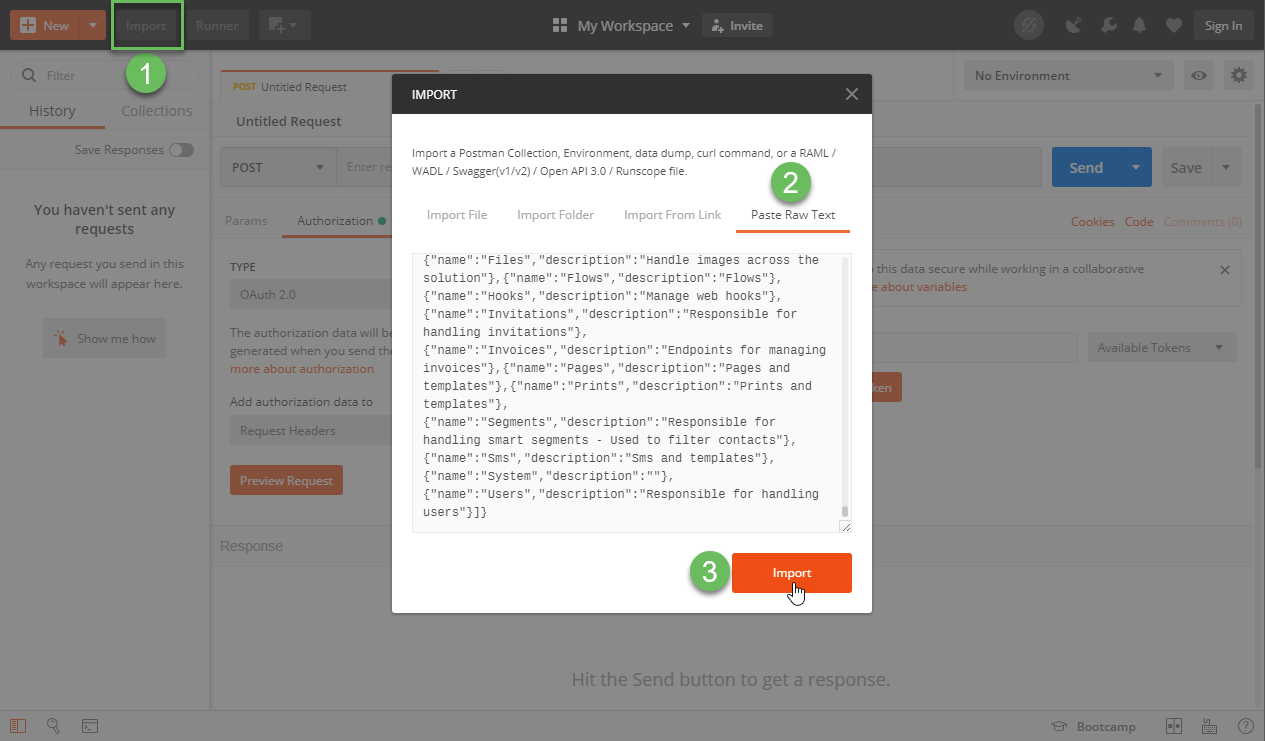 Tip: If these help-images seem too small, just right-click on then and "Open image in new tab".
After Import, you will get the Loopify Web API collection into Postman. We now need to authorize the entire collection.
2. Under the Collections tab, click the three dots (...) on Loopify Web API and then click Edit.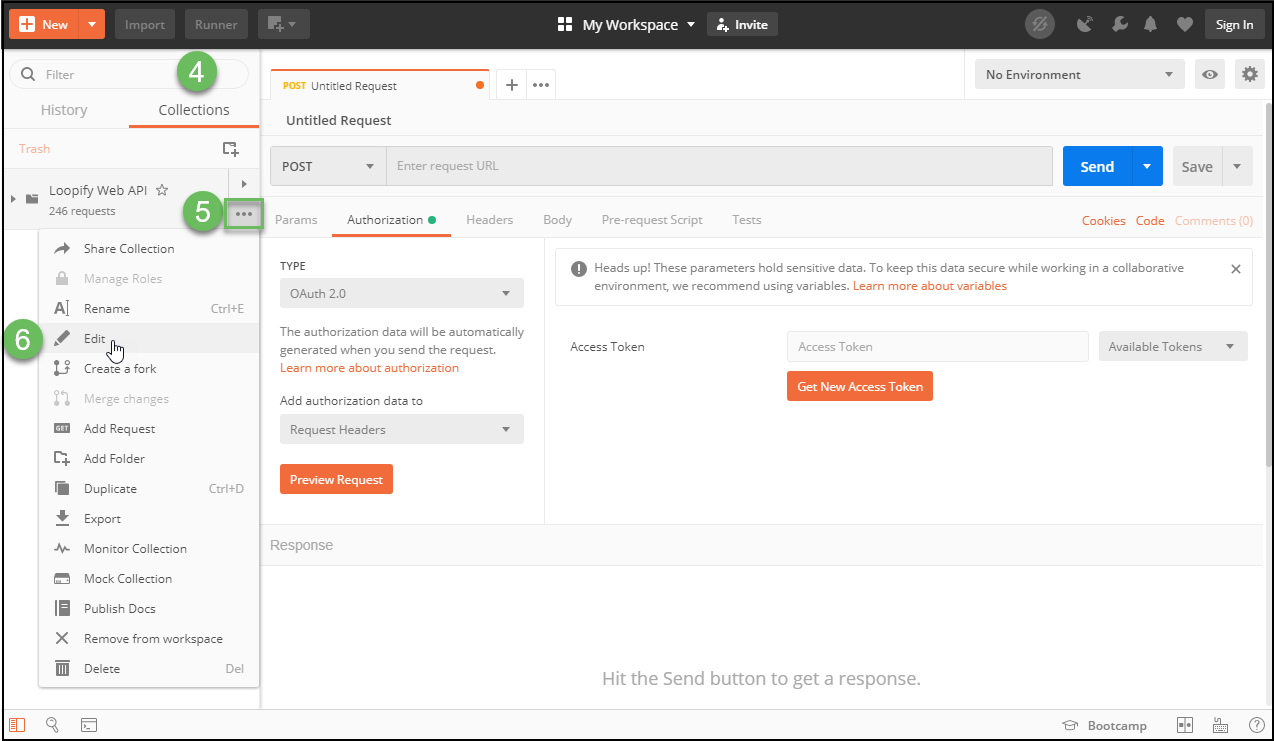 3. Go to the Authorization tab and under Type, select OAuth 2.0. Click Get New Access Token.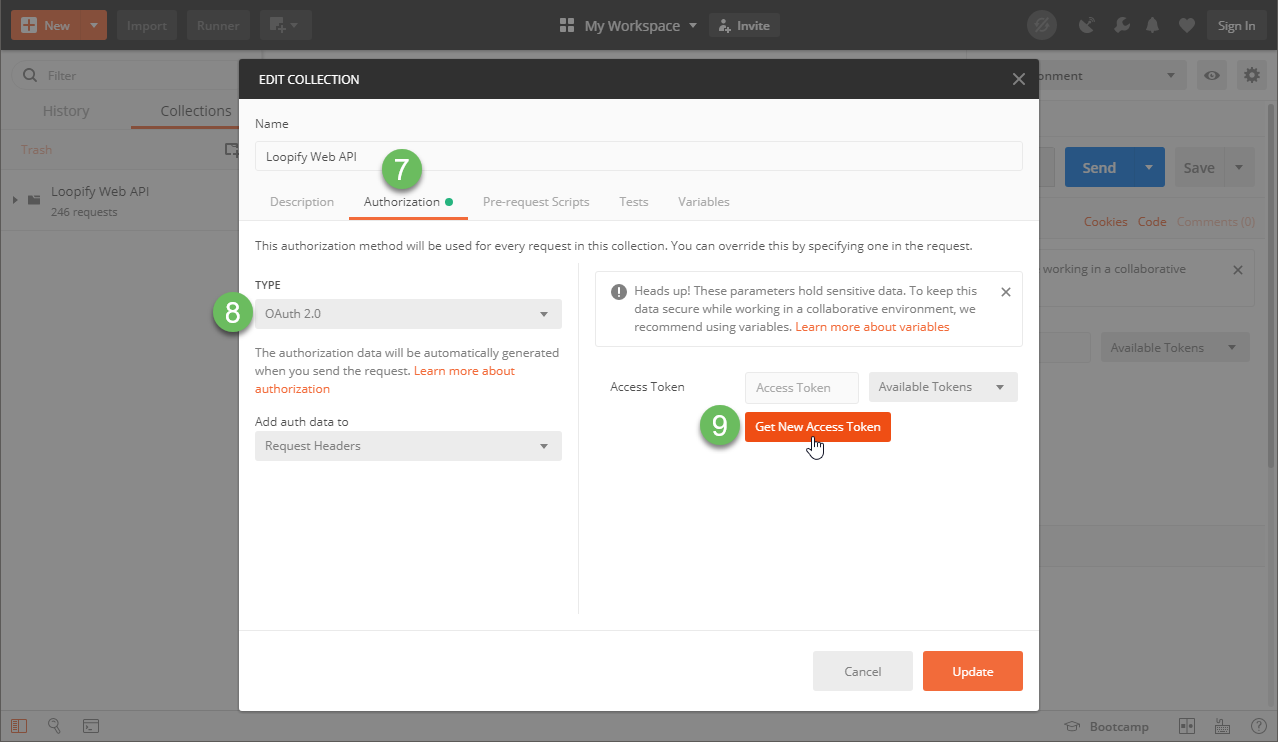 4. Fill in the following parameters:
Token name: LoopifyTokenClientname
Grant type: Authorization Code
Callback URL: https://www.getpostman.com/oauth2/callback
Auth URL: https://auth.loopify.com/connect/authorize
Access Token URL: https://auth.loopify.com/token
Client ID: client-ID-here
Client Secret: client-secret-here
Scope: Admin
and click Request Token.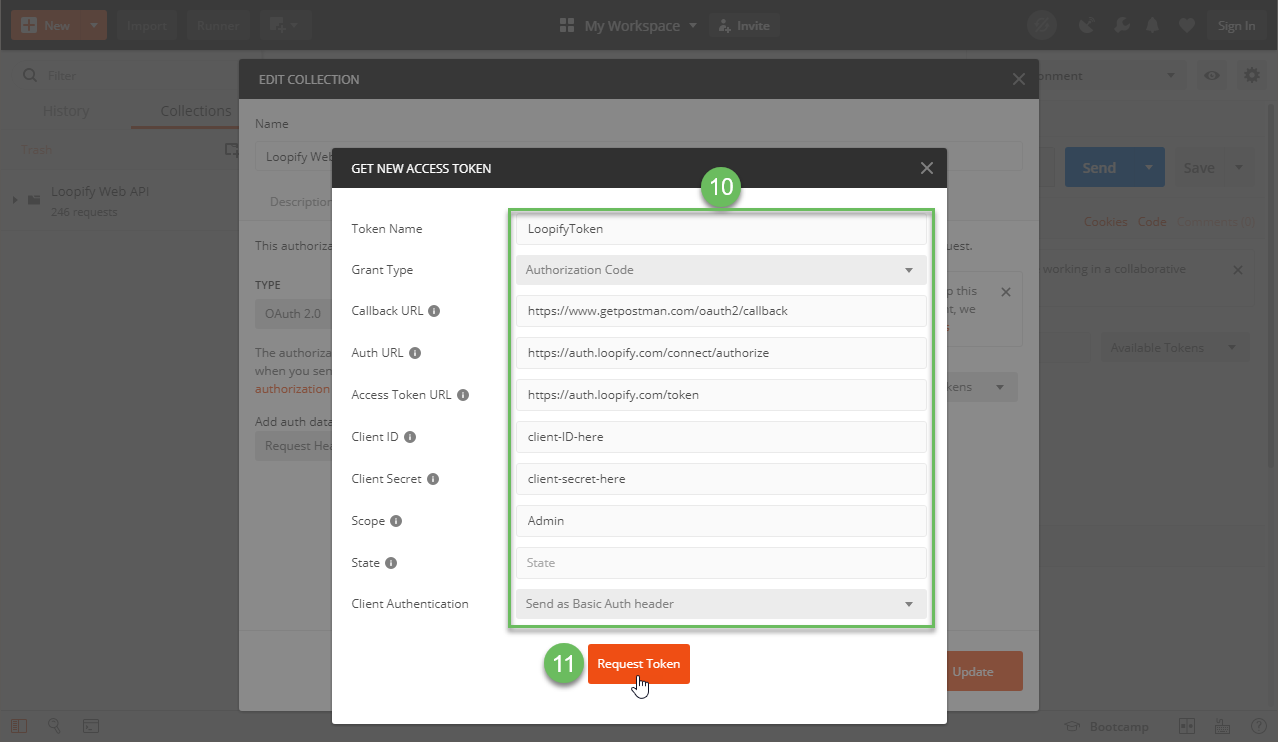 Tip: Postman will remember the added parameters, so next time will be much faster!
5. After clicking Request Token, your account will appear and you would need to sign-in to it. Do that, scroll down and click Use Token. Once you do - you can start making calls!
6. Here's an example call, with Mapping an API entry block in Flow! Find the "Map an api-entry block in a flow" endpoint and click on it. In the Params tab, add the flowid and blockid, which can be found in your Flow, in the API Entry block. See the screenshot for how should it look: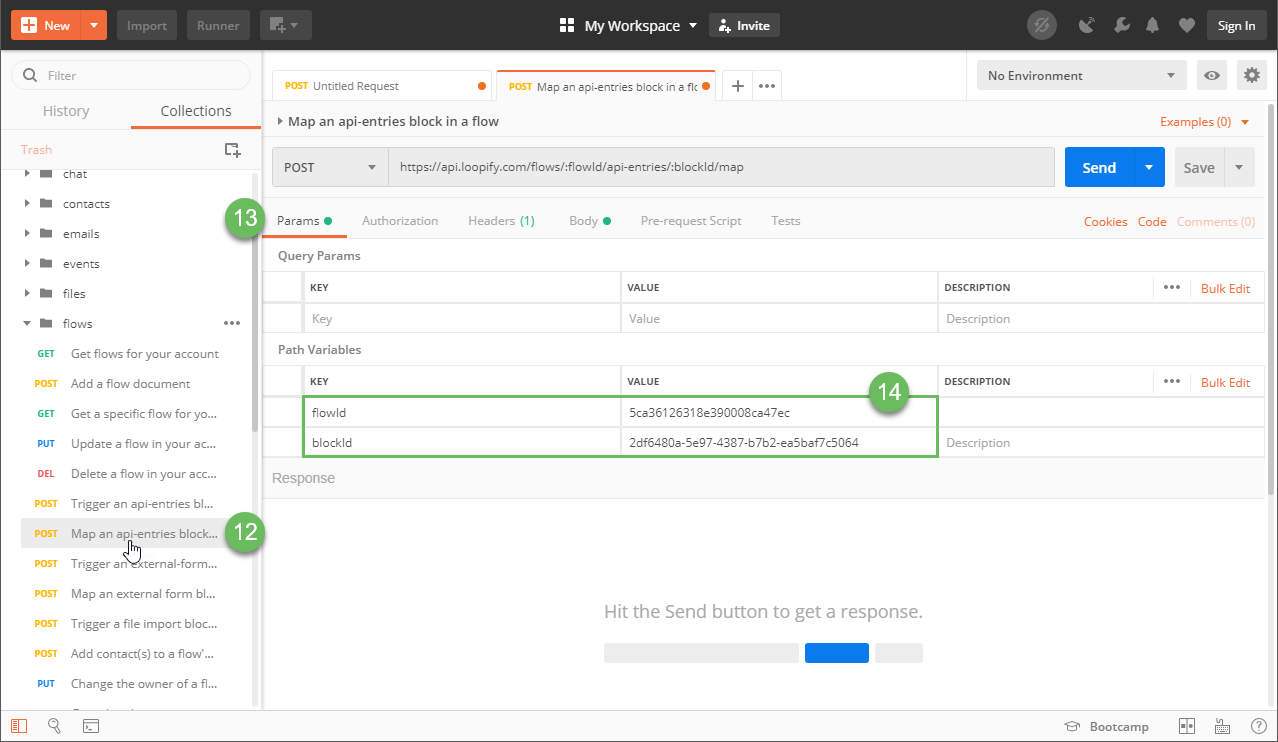 7. Lastly, go to the Body tab and make sure that the type is set to raw and JSON (application/json). Add the JSON sample data there, and when all this is done - click Send!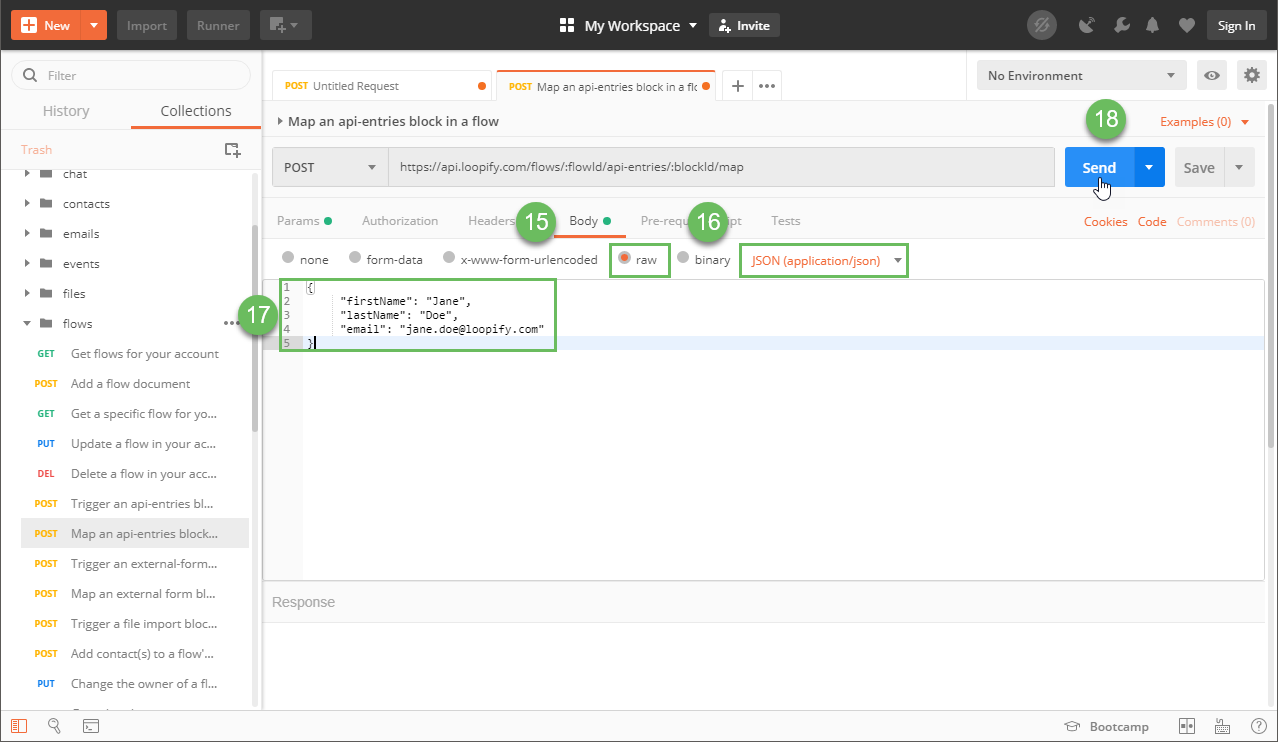 That's about it! A call has been made and mister Postman did its thing. 🙆‍♂️