Since not a day goes by without you running into a template and a campaign, that's why you must distinguish them.
The templates and campaigns in Loopify are easy to use, you don't need any super skills. Both the templates and campaigns consist of modules. Think of them as building blocks of different sizes that you stack, by using our drag & drop tool, until you get the desired look.
Template
The template is a canvas you work on, a blank slate if you wish. We offer two kinds of templates:
Loopify design templates

that you can use for free and personalize them. You can adjust the settings, colors, and fonts and make one hell of a template. Our design templates have dummy text and randomly selected images so that you have a visual orientation of where everything goes and what will it look like.

Custom-made templates made especially for you. You decide on the functionalities that you want in your template, settings, colors, fonts, images. You can create your own modules entirely and then choose the layout that suits you and your brand. But before suggesting any templates, go ahead and learn what you'll need to request a custom-made template. Our developers take care of the rest.
Both of these kinds of templates have things in common. This is what you can do with them.
Modify the template's settings. The biggest plus is that you can set settings that refer to either the entire template such as font, link style, background image, etc., or tweak settings that apply to each module. Just remember that some of the settings can only be set in the template and are not available nor can they be changed in the campaign.

You can't send a template to the customers, though. The campaigns are the ones that reach the customers' inbox.
Basically, think of the template as the mother-of-all settings. Set the ones you need for a perfect campaign and publish the template.
Note: Access to the template and the template editor have only the admins of the account. Meaning if you have a user role, you won't be able to add a design template. The admin must publish the template first, and then the user can use the template in the campaign editor.
Campaign
Let's say that you want to send out a one-time promotion. You can create a single campaign in the email app, and send it out to your contacts.
We also offer customer journeys, we call them flows. Those campaigns are of a large scale and can include several types of automated communication and other steps in between.
You can't create a campaign without having any published templates. Once you click 'Use' on the published template, it opens in the Campaign editor and becomes a campaign in the making.
This is where the magic happens and where you form the message that you want to send to your customers. You add text, images, links and variables, segment modules - all to create the perfect finished campaign.

Once everything is in top shape, you send the campaign on its way to your customers.

Unlike the template, you can send a preview of the campaign to see how will it look from your customers' perspective. You can also chat within the campaign and ask for feedback from your team members or other people you trust.

If you have a ✨Magic license✨ and you are an HQ account, you can share your finished campaign to branches. Your branches can copy it and send it to their customers. Perks to sharing your ready-made campaigns is that you stay on brand and the message that you have in mind will reach all of your customers. It's also time-saving for your branches.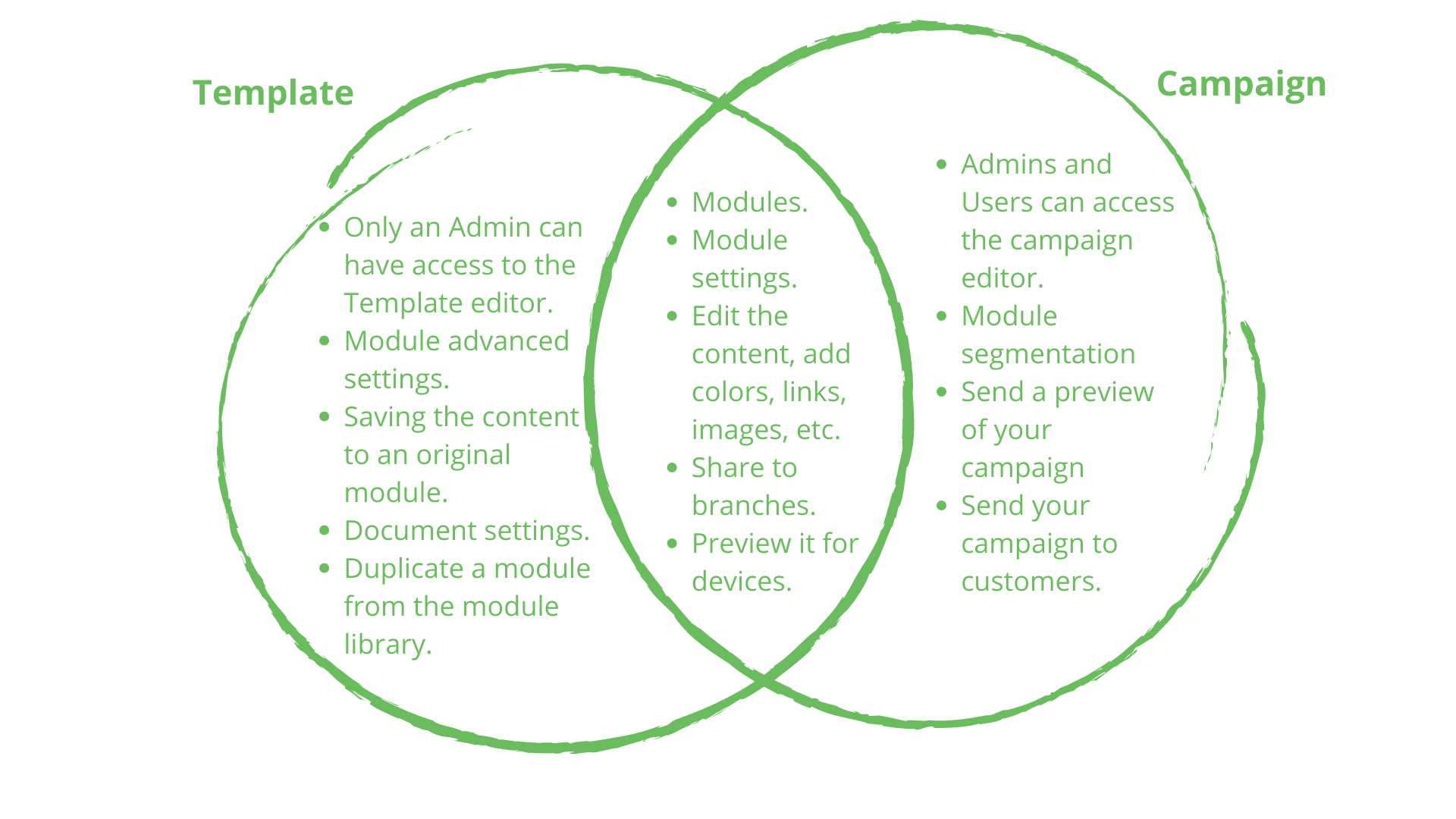 To sum up, let's involve food for a second. Think of the template as a plate and of the campaign as a meal. You take the template and add content to it to create a campaign, just like when you take the plate and add food to it to get a tasty meal. Or think of it this way - templates are more settings orientated while campaigns are more message orientated.
You're so close to making your customers happy. Start with Loopify 101 and you'll get there in no time!